Fight or Flight: Santa Rosa Nonprofit Vows to 'Put PTSD Out of Business'
Susan Farren answers the call to build resiliency in at-risk first responders
First responders are our heroes. We see them as a strong, calming presence and depend on them to help us through the worst of times. Yet we rarely give thought to how the situations they encounter might affect them. The impact, it turns out, is significant. They're more likely to die of strokes, heart attacks and cancer than others, have life expectancies of 15 years less than civilians and a 70% divorce rate. Susan Farren, founder and executive director of First Responders Resiliency in Santa Rosa, is a former paramedic who has witnessed the struggles first responders experience firsthand, and her mission is to use the nonprofit to teach them how to develop strategies to deal with the stress that comes with their jobs and improve the odds of staying healthy.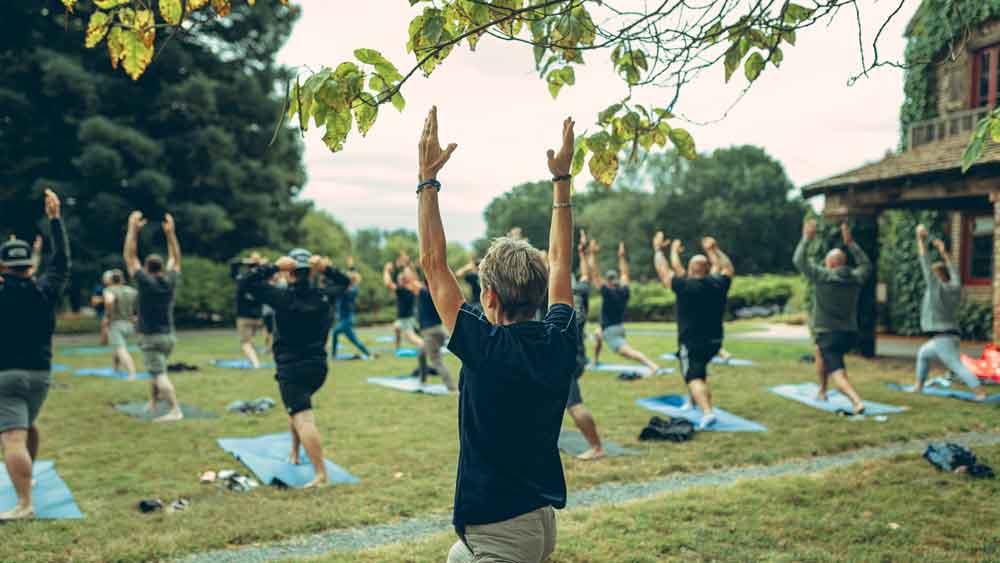 Like many first responders, Farren, 58, comes from a dysfunctional family. Her parents were both alcoholics, and her mother, an ICU and emergency nurse who appeared normal outside the home, was also a drug addict. Farren's father left the family when she was 15, and two years later, her mother died, leaving her on her own at 17. She had to quit school and get a job, and she became a lifeguard, because she knew how to swim. Then she enrolled at Santa Rosa Junior College. She intended to study criminal law but took an elective in EMT studies, rode along on calls and found her calling. She explains that people with histories like hers look after other people from a young age and are often drawn to jobs that create stability out of chaos.
Farren entered Stanford University's paramedic program in 1984, and after completing her studies, she spent a short stint as an EMT in Santa Rosa. Next, she moved on to a position as a paramedic in Oakland. During her time in Santa Rosa, she'd seen one shooting—a man in a bar in Roseland, who shot himself in the leg while putting a gun in his waistband. But Oakland was another story: she saw three fatal shootings in her first week alone. She spent two and half years working 72 hours a week, before moving up to become a supervisor. Meanwhile, the work began to have a negative effect. "Every experience was laced with pain and sorrow," Farren says. And so, after five years, she did what many first responders do when they experience burnout: She changed jobs, taking a similar position in San Francisco. Rather than finding an improvement, however, "It was the same horror in a different location," she says. Eventually, Farren became a paramedical instructor and then a clinical manager, and she loved the work. "I had a lot of street experience," she says, and as a paramedic, she was providing education and oversight to other paramedics and could help them improve.
Then she met and married a paramedic-firefighter who worked in Oakland, and they moved to Sonoma County. They had five children, and she worked part-time as a clinical manager while raising the kids. She was content. Eight years ago, though, after 23 years of marriage, changes upended her life. First came a divorce—and the financial repercussions that come with it. Farren had been working as a contractor for several North Bay fire departments, but with changed circumstances at home, she suddenly needed a full-time job. She returned to Oakland, but shortly after starting, began urinating blood. Tests revealed that she had a kidney tumor. Initially, a surgeon told her she had a mass on her liver, as well, and gave her a terminal diagnosis—but it turned out to be a birthmark that mimicked the appearance of cancer on scans. She underwent successful surgery to remove the tumor, and the experience was a turning point.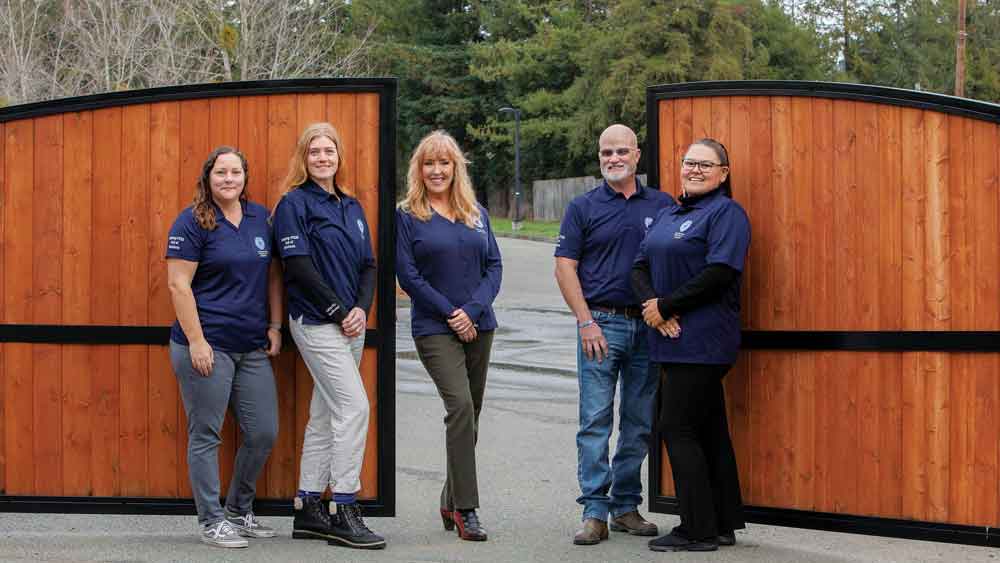 The defining moment came when her doctor told her that organ cancer was common in first responders. His comment sparked her curiosity. "When I got home, I entered 'organ cancer first responders' in Google," she says, and she learned about the frequency of heart attacks and strokes as well as cancer. She explains that first responders are often in highly stressful situations—and stress can affect kidney, liver and lung health. And when irritation and inflammation to vital organs occur, they're an invitation to cancer. She wanted to know why people in her profession were getting sick and dying at higher-than-average rates—and why they are more likely to die by suicide than in the line of duty. "Why had so many of my partners taken their lives?" she asks. "It was rampant among us, but it wasn't really discussed."
Farren returned to work but was suffering from abdominal spasms, which were the result of nerve damage that occurred during a surgery. Because she was unable to sit long enough to drive to work, she had to leave her job—and without a steady income, she had to move out of her house in Rohnert Park. She'd had what she thought was a successful life with a marriage, house, good health and a career—and she's lost it all. She became depressed, but with the help of a friend, she found a program where she spent four months learning to take care of herself. When she returned home, her passion for finding out what was ailing her and her colleagues continued unabated. She covered her family room wall with butcher paper, and "I began writing down everything that was happening to first responders," she says.
The missing piece
Among her discoveries, Farren learned that the constant state of fight or flight that first responders endure causes changes in the brain's anatomy. She explains that people expect first responders to be stiff and stoic, and they learn to be in control and suppress their emotions so they can do their jobs. But they can't easily turn it off—and they can remain in that state after a shift ends. Consequently, she says, "The limbic system and neuroanatomy changes." In addition, conditions such as anxiety and lack of sleep depress the immune system. The triangle-shaped adrenal glands, for example, are located on top of the kidneys, and one of their functions it to produce hormones that regulate the response to stress. Too much stress depletes the hormones, leading to chronic anxiety, which makes an individual vulnerable to illness.
Once it became clear that predictable physiological changes can be responsible for the conditions many first responders experience, Farren embarked on a quest to find the best way to prevent the changes from occurring. She observed that talk therapy takes place after a stressful situation, but that's often too late. It's better to learn how to take preventive steps before post-traumatic stress disorder sets in.
As she learned more, she recalls thinking, "Surely someone's going to do something." No one did, however. So she decided to take on the challenge herself. "I was a first responder and knew what wasn't being given to us," she says. Farren saw how agencies provide fire trucks and protective equipment such as helmets, but not the tools to care for the most important equipment first responders will ever have: their brains and spinal cords.
Farren wanted to teach people how to avoid the symptoms of PTSD and started going door to door to enlist support. And, although people listened to her pitch, they weren't open to change. Then Sonoma Valley Fire Department officials allowed her to give a one-hour presentation to their staff. When she'd finished, a man raised his hand and asked what she was going to do with what she'd learned. "I'm going to go home and sell my house and start a nonprofit," she replied. That was three weeks before the Tubbs Fire of 2017. Eleven days after the fire, she was triaging supplies at the Santa Rosa Veterans Memorial Building—and became more determined than ever to go ahead with her plan and launch First Responders Resiliency, Inc. In June 2018, First Responders Resiliency held its first training for 40 people at Westerbeke Ranch in Sonoma. Many trainees had scholarships Farren provided in order to ensure a high attendance—she thought if she could get plenty of first responders to attend, they'd tell others. Sure enough, word began to spread. By 2022, she had provided training for 6,000 first responders from a broad swath of agencies including local fire departments, Cal Fire, a fire department in South Dakota and the United States Capitol Police. She now conducts conferences and presentations for law enforcement officers, firefighters, dispatchers, EMTs and emergency department physicians. "I have personally been at every training, 140 trainings in four years," she says. The program is different from others, because first responders are part of the team and speak at the conferences, and she pays close attention to the latest research about the physiological impact emergency work has on first responders. The official trademark, as it says at resiliency1st.org, is "Putting PTSD Out of Business."
"It's not a disorder. Post-traumatic stress is an injury," Farren says. "You don't have to get it in the first place. You might have some symptoms, but you don't need to be crippled by it."
Taking Action
First responders from across the country sit at long tables in the Swing Hospitality Pavilion at Bishop's Ranch in Healdsburg on a recent November morning. The hilltop setting is tranquil, with views of vineyards and pastures through the windows, but not everyone is happy to be there. Some sit stiff and impassive, arms crossed, as Farren welcomes them, while others play with the pipe cleaners they've found on their tables, twisting them into unique shapes. One young man takes the colored pencils from the cup in front of him and, with a concentrated downward gaze, starts to fill in the coloring sheets that are part of each participant's information package. Farren, however, is an engaging speaker, and she's one of them, so they can relate to the stories she tells. An hour in, by the time she begins to explain how stress stimulates the amygdala to create a fight, flight or freeze response, they're starting to relax and are visibly interested. Even the artist is watching and listening to her intently. Most first responders don't believe they're at risk, and so the first hurdle is getting them to accept that they have problems or could develop them. Giving them these tools to relax is a deliberate strategy.
"You can't read the label from the inside of the bottle," says Farren, and so she and her team teach participants to recognize the symptoms and become aware of the pain they might be holding inside. "We give them science and research and what they need to stay alive," she says. "We show them how to turn it around."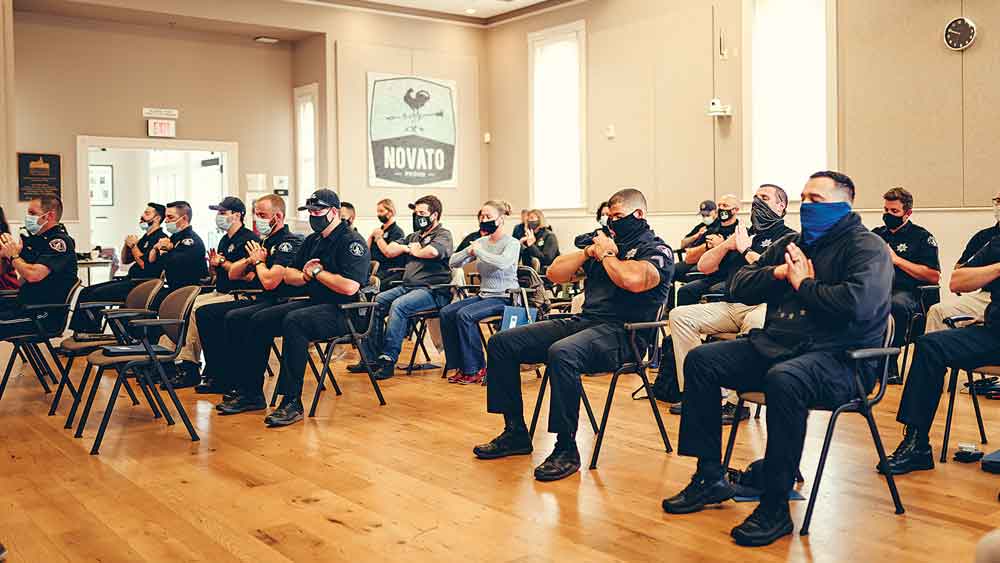 The three-day conference offers a variety of sessions structured in modules, each with a specific focus. First responders often have nightmares and difficulty sleeping, but don't talk about it—so one of the body modules addresses the importance of sleep. The disability module tackles suicide awareness and substance abuse. The idea is to teach first responders to deal with trauma and stress preemptively so they can avoid developing disabilities—and if they're already suffering, it helps them become more receptive to therapy. The training is serious business, but game night, massages and playtime are included, so attendees also have opportunities to socialize and have fun. Art therapy is also offered to encourage first responders to express creativity. Sometimes families recognize problems first, and they are invited to participate in training designed especially for them on the third day of the conference, allowing them to gain an understanding of the challenges their loved ones are dealing with and acquire the skills to support them.
Recognition of the program is increasingly attracting the interest of people who can help. Researchers at Loma Linda University in San Bernardino County track participants following a conference, taking surveys after three, six and nine months. Dr. Ryan D'Arcy, a Canadian neuroscientist and innovator who founded HealthTech Connex in Surrey, British Columbia, has offered the use of Neurocatch, a product he invented to monitor brain activity and show improvement in cognitive activity. Even the insurance industry is taking notice. In September, Farren signed a contract with an insurance company specializing in workers compensation to conduct a pilot project to train first responders, after an executive heard her speak at a conference.
Finding a Home
Next, "I want to build a resiliency center," says Farren, explaining that she wants to do more in Sonoma County to honor local first responders for their work during the wildfires. In May 2021, First Responders Resiliency, Inc., acquired 17.75 acres of land in Cotati to build the first such center in the world. "I stumbled across this land," she says, and although she didn't have the money to buy the property—a former golf course—outright, the owners knew who she was and believed in the work, and so they assisted her in securing funds for the purchase. Her plan is to build a holistic wellness center for first responders, giving them a place to deal with their pain. It will include a drug and alcohol center, treatment for PTSD and a day-use center so they have a place to go to after a difficult shift. She hopes to partner with First Response K9 Dog Training in Concord, and offer equine-assisted therapy as well. Rather than a riding program, individuals will work with horses on the ground doing tasks such as grooming to relieve their stress. "Horses are very receptive. They will respond to you according to what's going on in your life," she says. "Horses and dogs will tell you the truth. Civilians ask questions they shouldn't be asking. Animals don't do that to us. They just let us be."
The organization is currently in the midst of raising $2 million for the center's first phase, and Farren hopes to break ground in 2023 and have the center up and running in 2024. It will require an additional $13 million to fund the remainder of the project, and she's looking for businesses to help. "I've got the tenacity and passion. I'm looking for someone else who has the checkbook."
Farren finds the work both exciting and terrifying, but she intends to carry on, and her long-term goal is to build 40 centers across the country. She points out that emotional injury is as real as tearing an ACL, and first responders need to take care of their minds proactively as well as their bodies. She observes that every firehouse has a gym so its staff can keep fit physically, and she'd like to see programs to look after the mind become just as common.
"I'm trying to change a culture," she says. And if all goes well, in 15 years, first responders will think that PTSD is a thing of the past.
PHYSIOLOGICAL CHANGES AND THE BRAIN
The so-called fight-or-flight response common in first-response situations can be difficult to turn off. The resulting stress and anxiety can lead to changes in the brain's neuroanatomy and limbic system—and, ultimately, to depressed immunity and poor health outcomes.
LIMBIC SYSTEM
The limbic system consists of nerves and networks in the brain related to instinct and mood. It controls basic emotions such as fear, pleasure and anger and drives behavior such as hunger, sex, dominance and care of others.
NEUROANATOMY
Neuroanatomy includes the brain and the spinal cord (central nervous system). Examining their structures allows neuroscientists to learn how they work and study how damage or lesions to different areas affect behavior.
Source: National Library of Medicine
SOURCE – NorthBay Biz: https://www.northbaybiz.com/2023/01/04/fight-or-flight-santa-rosa-nonprofit-vows-to-put-ptsd-out-of-business/